LuxTrust and Fair&Smart sign a strategic partnership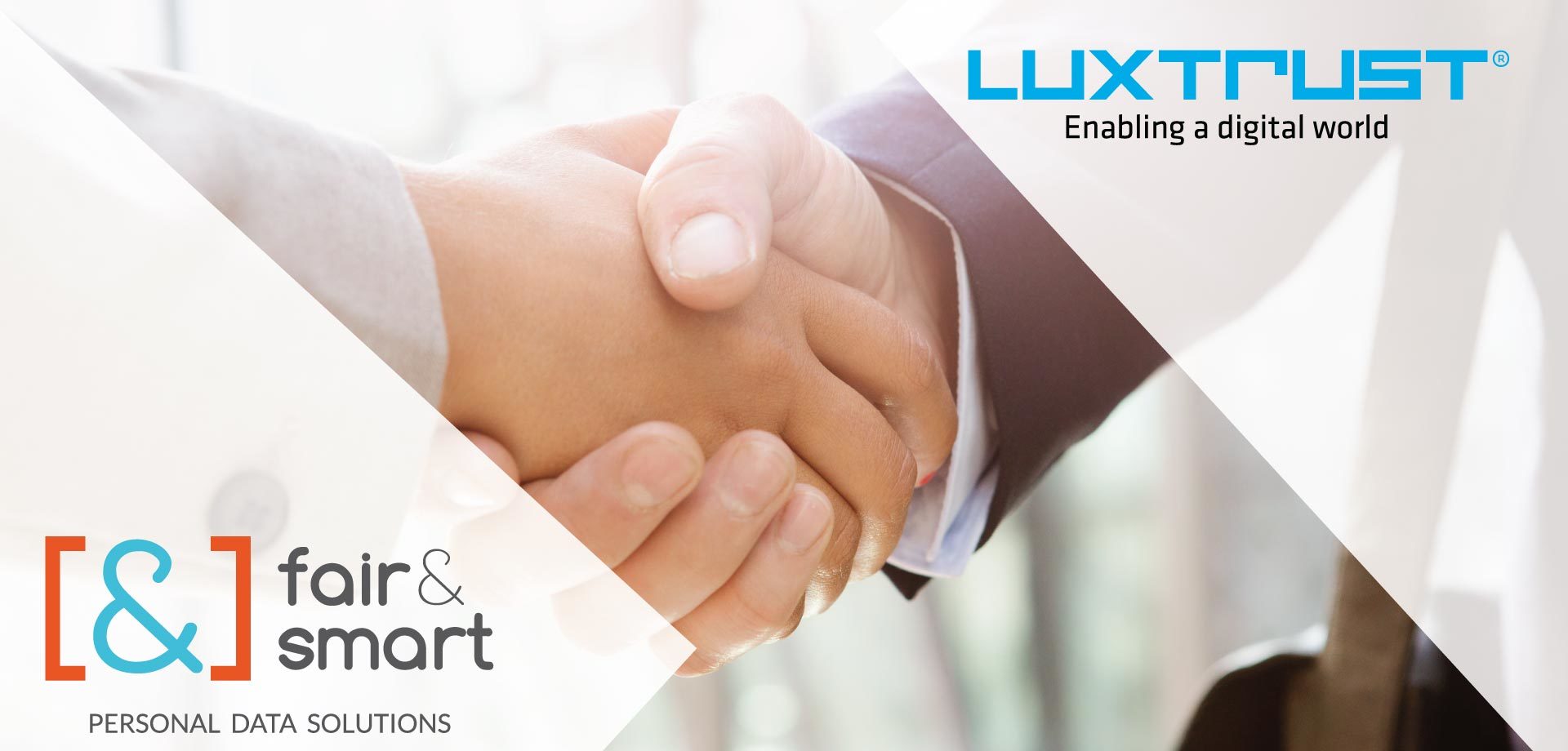 LuxTrust SA and Fair&Smart SAS signed a multi-year partnership agreement. Under the terms of this agreement, LuxTrust will be the exclusive reseller of Fair&Smart's Consent Management Solution – Right Consents on the Luxembourgish and Belgian markets. The solution will also be integrated into the personal data exchange platform – IDKEEP, ready to be launched by LuxTrust in 2021.
Since the European GDPR (General Data Protection Regulation) came into force in May 2018, all organizations carrying out processing of personal data of European citizens must ensure
compliance to a strict regulatory framework. Consent is one of the 6 legal bases that an organization can rely on to perform these processings. A valid consent must meet certain
conditions: it must be free, specific, informed, unambiguous and demonstrable. Consent is often required for the processing of special categories of personal data, such as health data.
It is also required for transfers of personal data between organizations which are not bound by contractual relationships. Therefore, consent is at the heart of the free movement of personal data desired by the European legislator.
"For a Trust Services provider and European trusted third party such as LuxTrust, it is essential to be able to manage consents effectively, both for citizens and organizations using personal data.That is the core of the partnership between Fair&Smart and LuxTrust. »
Pascal Rogiest, CEO of LuxTrust.
Xavier Lefevre, CEO of Fair&Smart explains: "Since 2016, we have been working on making consents collection a marker of trust between companies and their customers. People expect
transparency, clarity, simplicity and security on all channels of interaction with the company (web, mobile, call-center, store…). This is not just about being GDPR compliant, it is a matter of customer satisfaction and respect for the trust they put in you."
Collecting consent is a tricky interaction with the data subject. It has to work across multiple channels, at different moments throughout the user journey, and in a "clear and
understandable" form, suitable for the audience involved. Subsequent use of the consent database by different business applications of the Information System must be efficient, real-time and secured. It's a fundamental component of an ethical and responsible data governance. Its good implementation, however, requires legal, IT and business skills.
"We are very excited to start this collaboration. It will allow Luxembourgish and Belgian citizens to benefit from one of the best Consent Management Solutions in Europe, operated by a
recognized key player in digital trust, LuxTrust. It is an honor for our teams to see their expertise recognized once again." said Xavier Lefevre.
Trust is a key requirement to the development of a healthy Data Economy which benefits both organisations and data subjects. With Consents and Preferences Management, LuxTrust
becomes the first Trust Service Provider in Europe to cover almost all of the B2C digital interactions (Identification/Authentication, electronic signature, choices and permissions). The
exchange of certified personal data that will be offered by LuxTrust's IDKEEP platform will complete a trust platform designed to facilitate the mobility of personal data.
"Beyond its many trusted services and its solutions for electronic signatures, LuxTrust is positioning itself as an innovative player across the entire digital trust value chain. Since the
GDPR came into force, personal data management has become an essential part of this trust.
Our IDKEEP platform now makes it possible to manage secure, efficient and consented exchanges of various personal data between actors, whether they are citizens, private companies or institutional bodies. Therefore, LuxTrust builds a unique link between the eIDAS and GDPR regulations. In this ecosystem, consent management is the legal basis of trust: we
are delighted to be able, through this partnership with Fair&Smart, a recognized and key player within the GDPR ecosystem, to benefit from the best solution for such management " Fabrice Aresu, Chief Commercial Officer at LuxTrust.
About LuxTrust:
Leader of Trust Services in Europe, LuxTrust is a Certification Authority and a qualified European Trusted Third Party.
Since 2005, the company has been developing a wide range of solutions contributing to facilitating the digital transformation of organizations.
Certified according to the European eIDAS regulation and thus acting in accordance with the latest European regulations (DSP2, GDPR, ETSI, AML), LuxTrust operates services related to the Identification and Authentication of natural persons, to the creation and management of electronic certificates, and to the creation and validation of electronic signatures.
LuxTrust shareholders are made up of: InfoCert (50%) and LuxTrust Development (50%), which belongs to the Grand-Duché of Luxembourg, to the National Credit and Investment Society (SNCI), to the main retail banks of Luxembourg, and to the Chamber of Commerce.
For more information: www.luxtrust.com
About Fair&Smart:
Founded in 2016, Fair&Smart offers ethical solutions of personal data management to individuals and organizations (private and public):
Human-Centric Data (MyFairData – labellisée PrivacyTech 2020 et MyData Operator 2020),
Consents and Preferences Management (Right Consents – labellisée PrivacyTech 2020),
Subject Right Requests Automation (Right Requests)
Data Portability (Right Data).
Designed, developed and hosted exclusively within the European Union, Fair&Smart solutions aim to restore trust between individuals and organizations, thanks to more transparency and control given to the end-user.
The solutions also facilitate personal data exchange, releasing the full value of data while remaining under the control of the Data Subjects. The company, located in Metz and Paris, counts among its clients large social protection groups, insurance companies, services and French local authorities.